About Us
Company Name
Chitose Industrial Co., Ltd
Representative
Hirofumi Nakanishi, President and Representative Director
Establishment
June 10, 1962(History)
Capital
30,000,000 yen
Major Products
(Facilities)
■Press Working
Designing and Producing Metal Molds/Metal Stamping/Sheet Metal Working
■Non-Oxidation Brazing in Furnace
Copper/Nickle/Silver/etc.
■Non-Oxidation Heat Treatment
right Annealing/Solution Treatment/Precipitation Hardening Treatment/Sintering/etc.
■Assembly
Soldering/Spot Welding/High Spin Caulking/TIG Welding/etc.
■Wireless Electronical Equipment
Designing and Producing Wireless Sensor Devices(Temperature, Humidity, illuminance and Carbon Dioxide Concentration)

Head Office
4-9-56 Yokoshoji-cho, Higashiosaka-shi Osaka 579-8063 Japan
Contact
[Phone Number] +81-(0)72-984-5601 Mail
Major Customers
Automotive & Industrial Systems Company, Panasonic Corporation
Nihon Aluminum Rolling Co., Ltd.
OLFA CORPORATION
Sumiden Shoji Co., Ltd.
TAKATSU CORPORATION
Management Philosophy
Better Things Better
We aim to be a company that plays a part in better living through manufacturing making people trusted.
We will always strive for creative ingenuity with a one step forward attitude, refine our technical capabilities, aim to be a company that will continue to grow and develop.
We will continue to have dreams and pride, aim to be a company that can strive to improve personality and build a prosperous life.
Top Message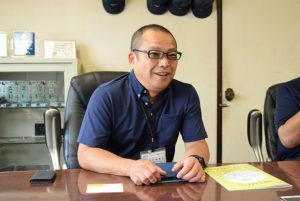 Thank you for visiting our web site.
There are two fundamentals that make Chitose developed: press working of precision metal parts, including electric components with development technologies of metal mold and brazing processing to bond metal materials perfectly. We have helped our customers with their creation of the added values with these possessed technologies.
Currently, there are consistent systems in our press department such as metal mold designing and producing, processing and assembly. Special techniques used non-oxidation brazing in furnace are also prepared. These accumulated our own technologies of processing, know-how and serious efforts for manufacturing are our treasure.
We will make further efforts in providing better services by our abilities to make proposals and technical strength.
Hirofumi Nakanishi, President and Representative Director